Created: 05/30/2021
by: FantasyThemes
Thank you for purchasing our plugin. We're as excited as you are about the possibilities before you. Finally, its going to be far less complicated to make your WordPress website pages look and feel the way you want them. We built this theme for everyone. It is perfect for newcomers to creating a WordPress site. Code is only poetry to people who know what it all means. To everyone else it is a strange and very foreign language. We get that and built everybody's requests right into the front end options. For all our seasoned WordPress pros, we know how frustrating it can be trying to finish a client's project. We think you're about to discover you can go from start to finish faster than ever and produce a smashing looking site in far less time than you ever thought possible.
Note: Be sure to refer to the information outlined in the following documentation for the DojoChain theme while building your new site. We have explained much of what you need to know to create great looking pages easily using the features built into the theme with you in mind. If you cannot locate the answer here, sign up for our support forum. We do not answer support questions on ThemeForest neither via email.
---
The first step in setting up your DojoChain-powered website is to install WordPress and the DojoChain plugin itself. But before doing so, you should check your hosting environment. As a guide, we recommend:
PHP version 7 or greater
MySQL version 5.6 or greater OR MariaDB version 10.0 or greater
WordPress memory limit of 128 MB or greater
HTTPS support
You should also check WordPress requirements.
PHP 5.2.4+ and MySQL 5.0+ reached End Of Life and is no longer maintained and as such may expose your site to security vulnerabilities.
---
Extract the zip file downloaded from ThemeForest.
Log in to your WordPress admin dashboard.
Upload dojochain.zip file to WordPress.
Preview and Activate the theme.
IMPORTANT! After activation go to your admin area and click settings, then select permalinks. Add there click save permalinks, it will help to get the new custom post types slugs correct.
---
Go to Dashboard -> Appearance -> FT: Import Demo -> Click "Import Demo"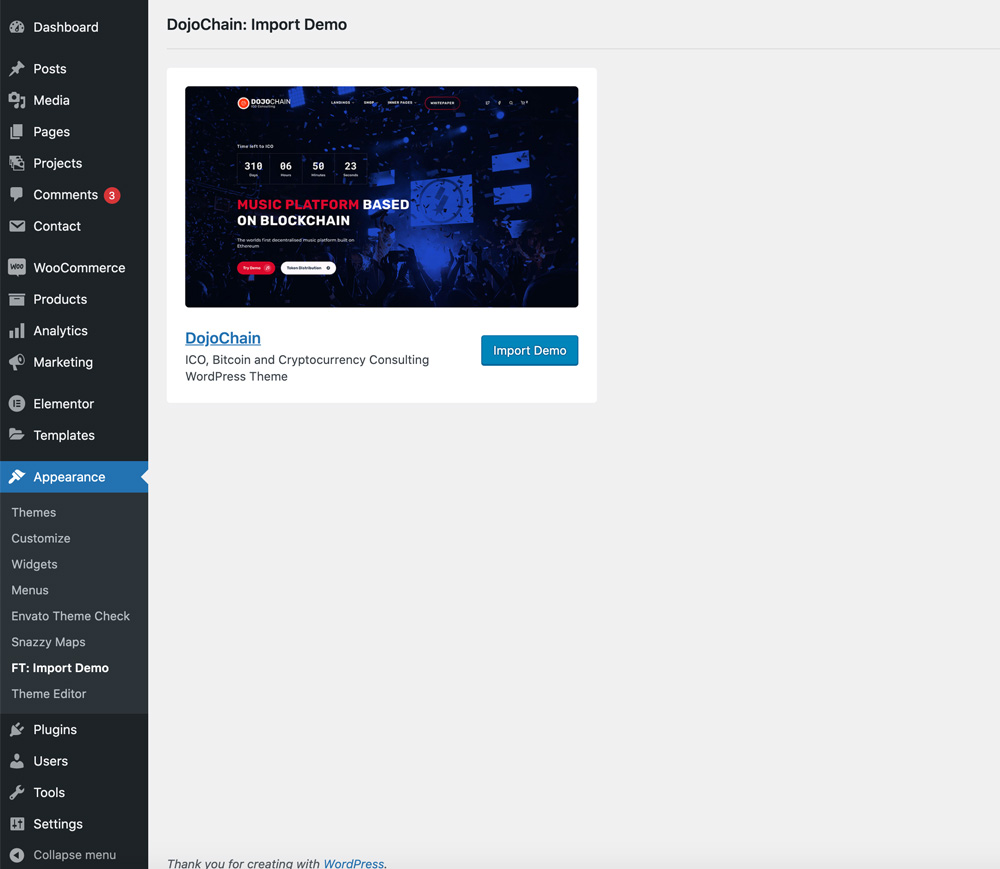 ---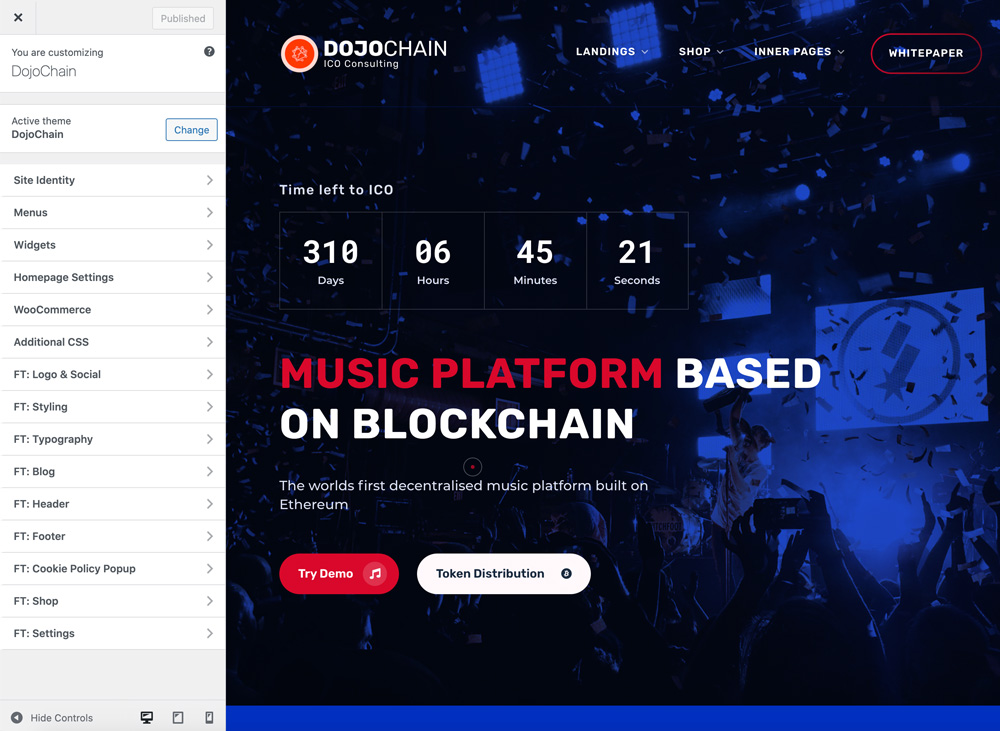 The main customizer categories are:
FT: Logo & Social.
FT: Styling
FT: Typography
FT: Blog
FT: Header
FT: Footer
FT: Cookie Policy Popup
FT: Shop
1.1 Logo
Here you can setup the logo (light and dark versions)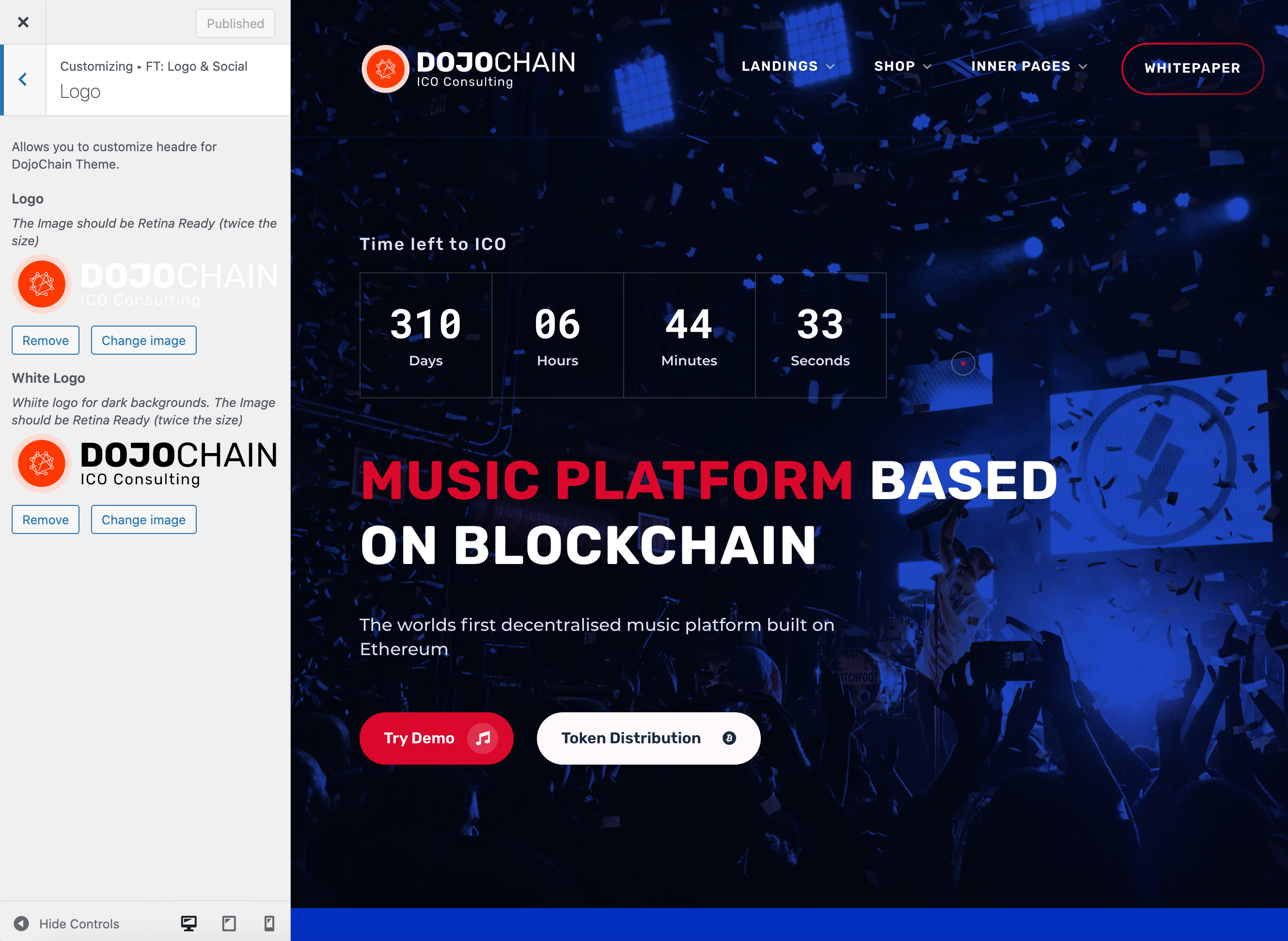 1.2 Social
Here you can setup the social links from left side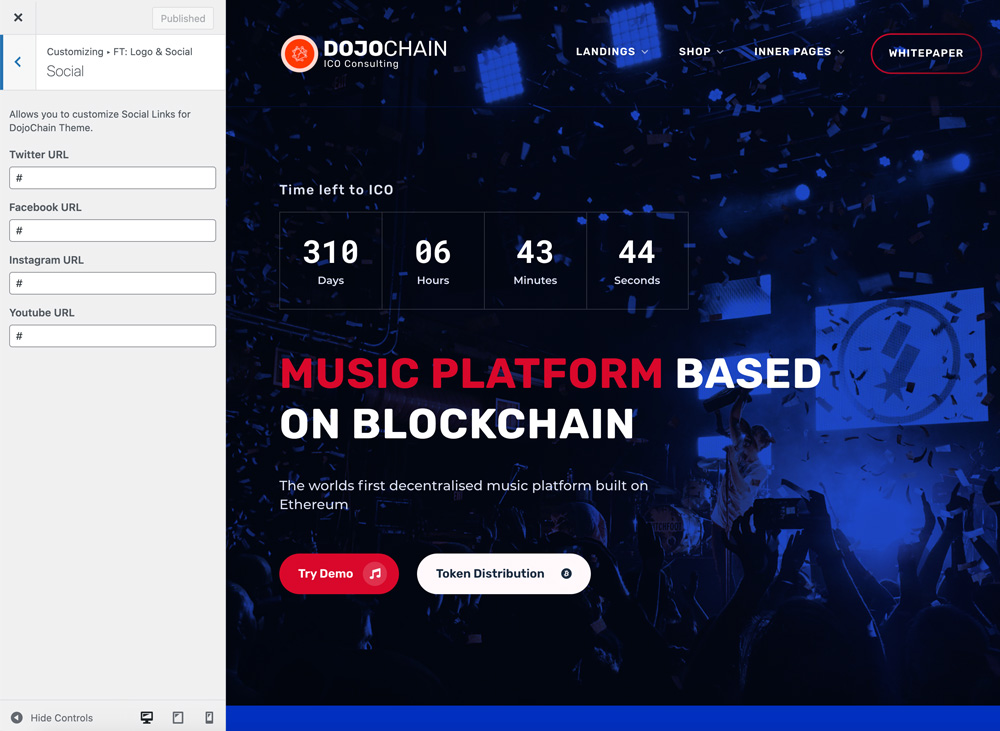 2 Styling -> Colors
Here you can setup the website accent colors. You can override theme on each page with Elementor page custom settings.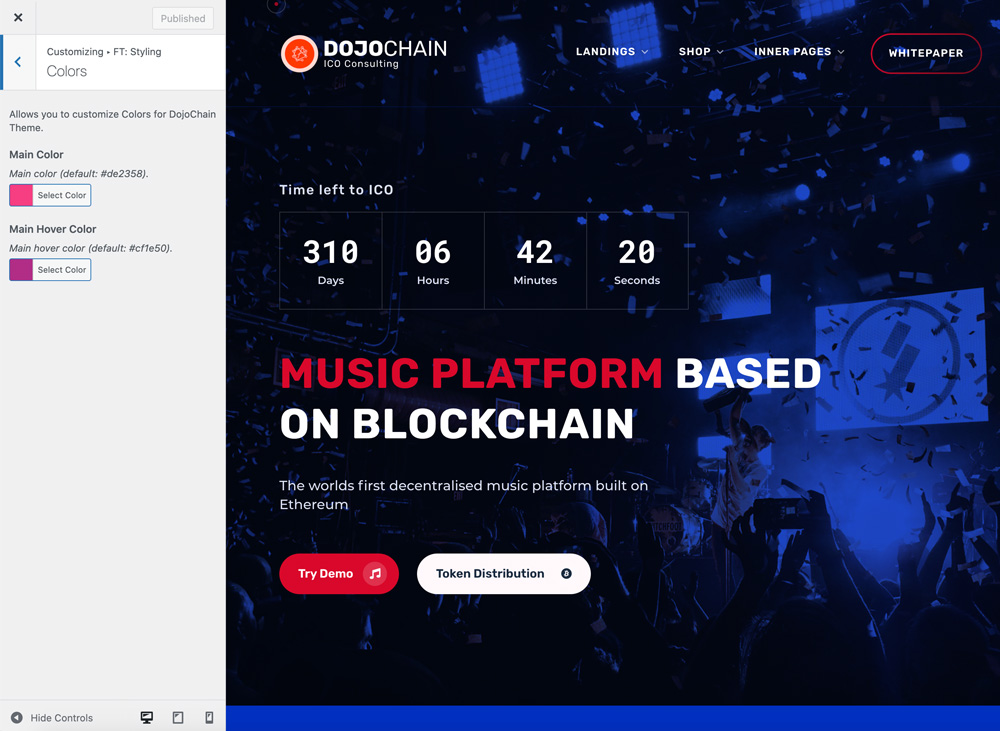 3 Typography
Here you can setup the typography for:
Content
Main Menu
Fullscreen Menu
Headings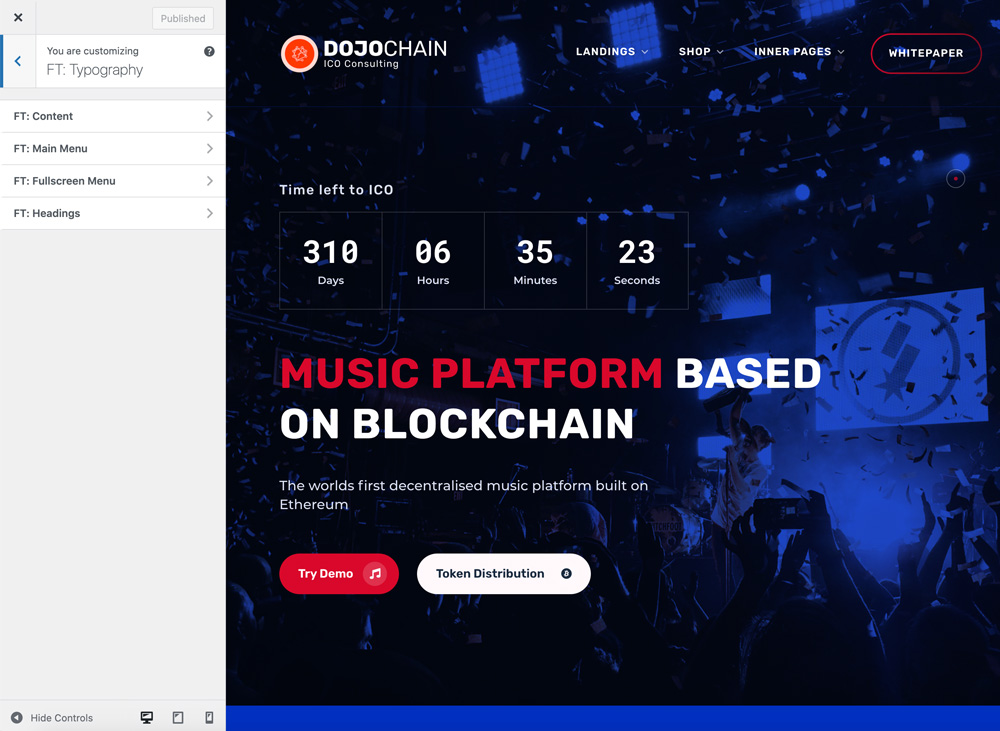 4 Blog
Here you can setup the blog page header image background.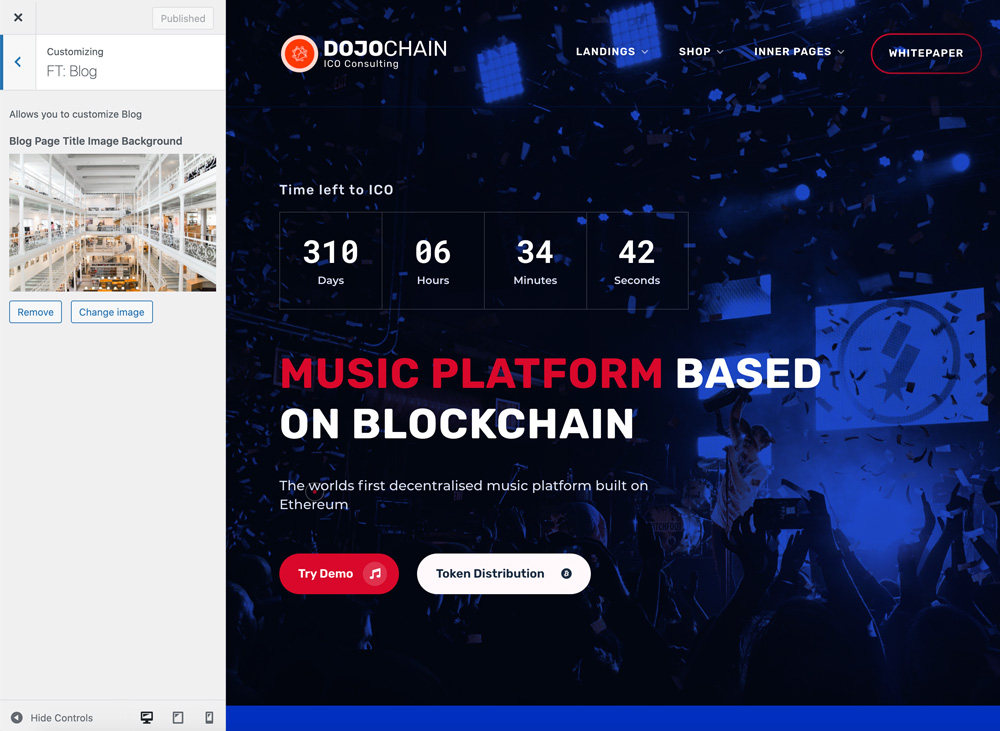 5 Header
Here you can customize the header layout and color style.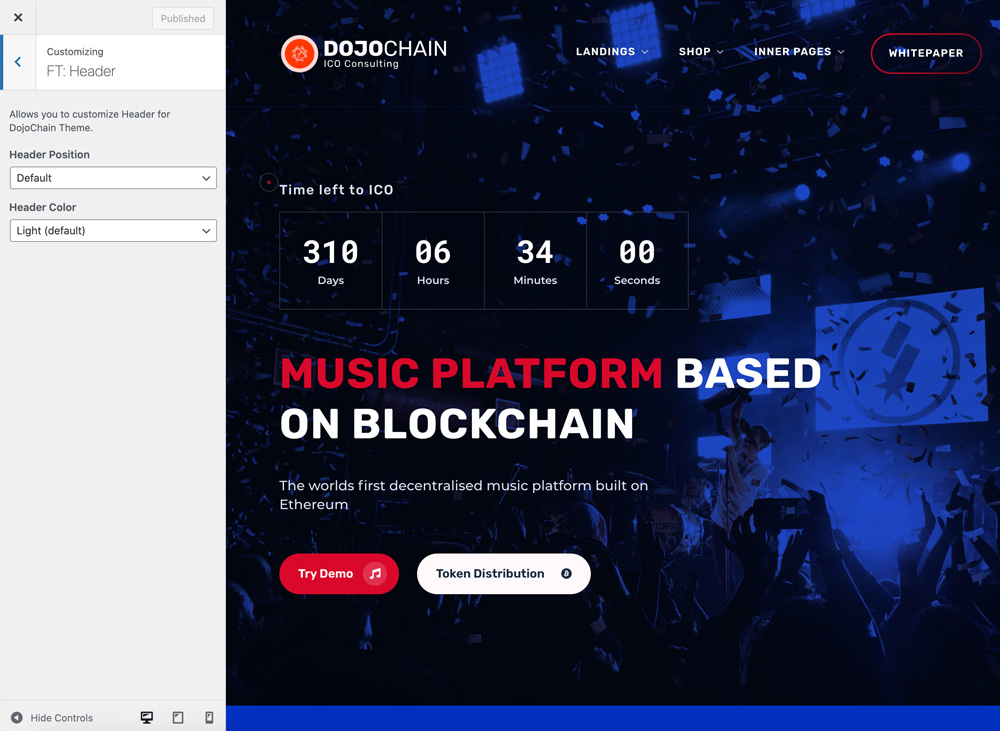 6 Footer
Here you can setup the footer copyright text and color style.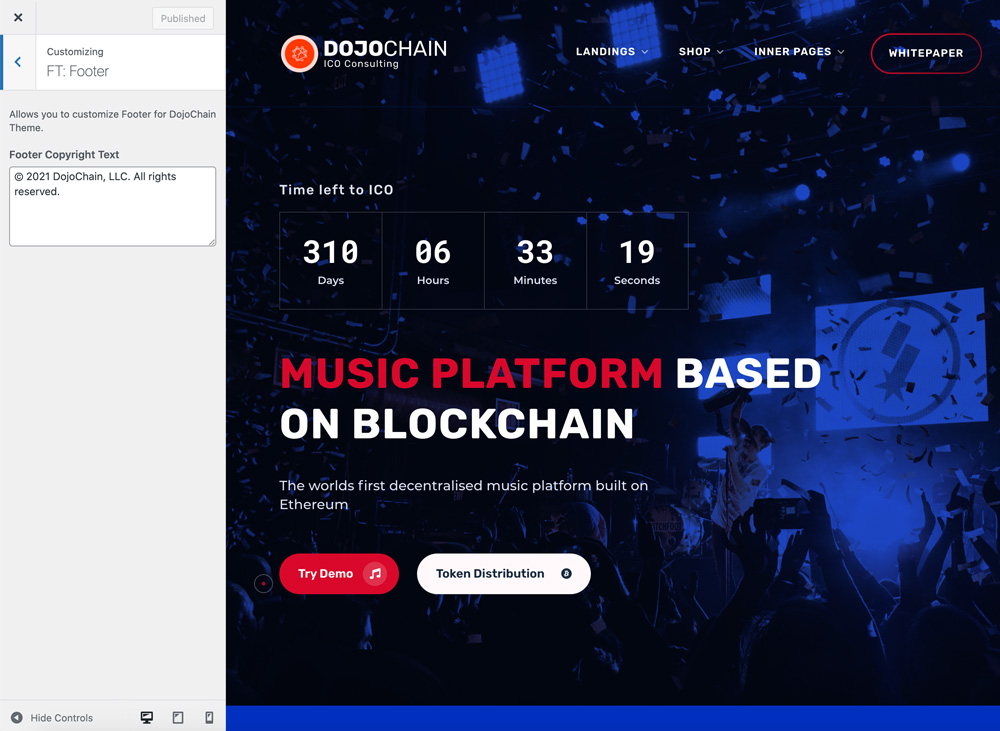 7 Cookie Policy Popup
Here you can setup the cookie policy text. The style is customized from Styling section.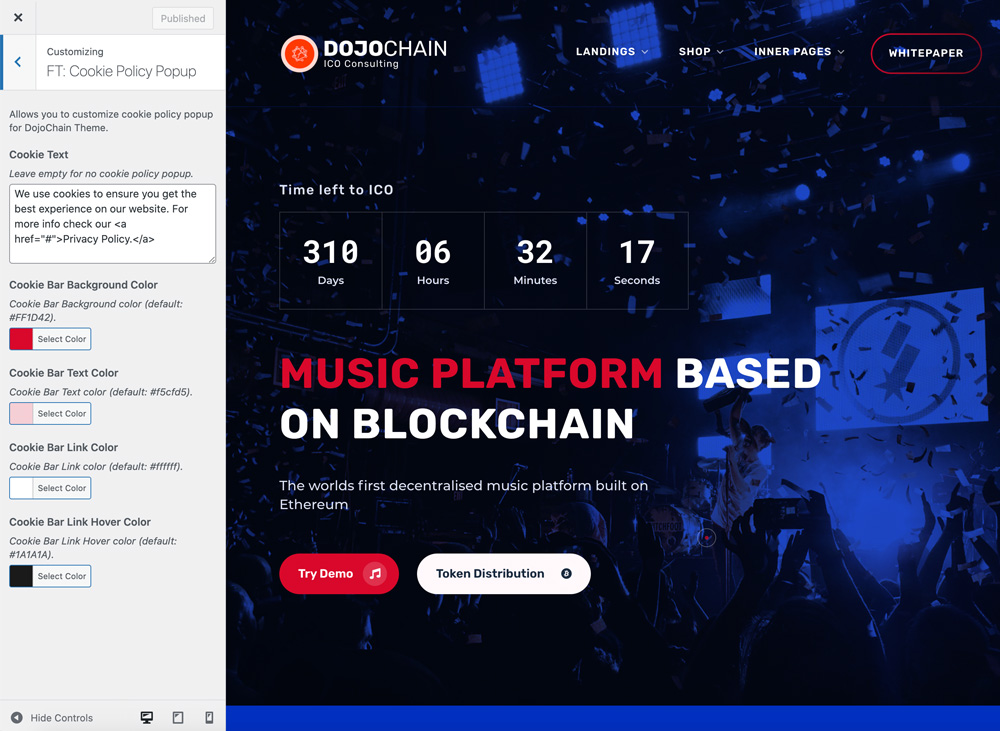 8 Shop
Here you can customize the shop header image and shop page title.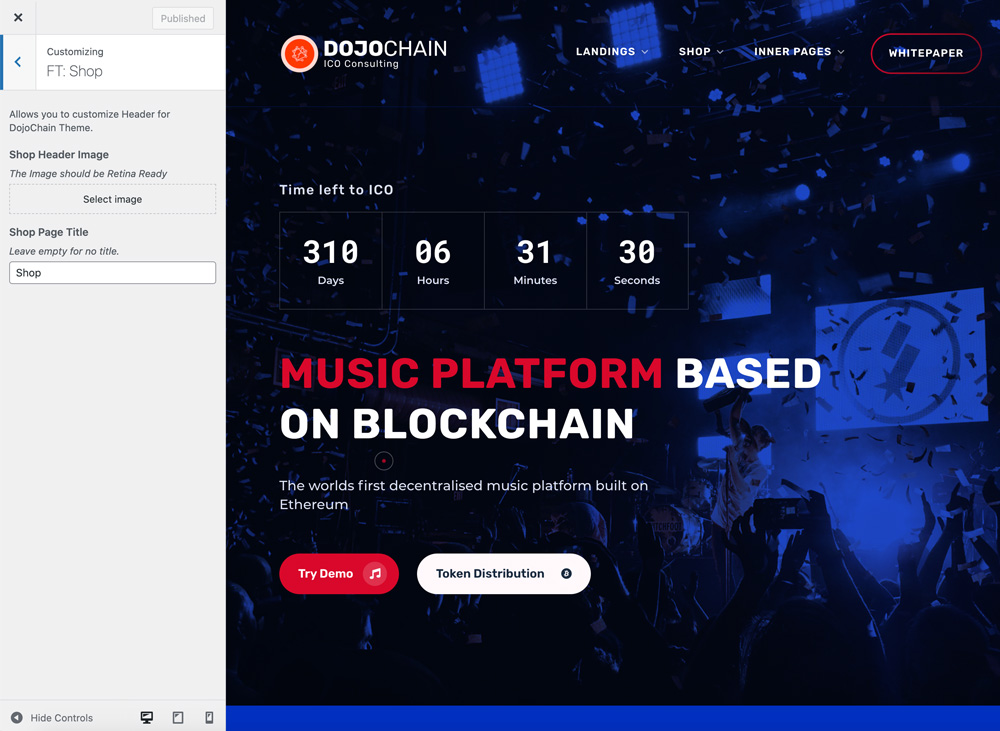 ---
Here you can override (for current page) the general website settings like:
Header Style
Menu Colors
Fullscreen Menu colors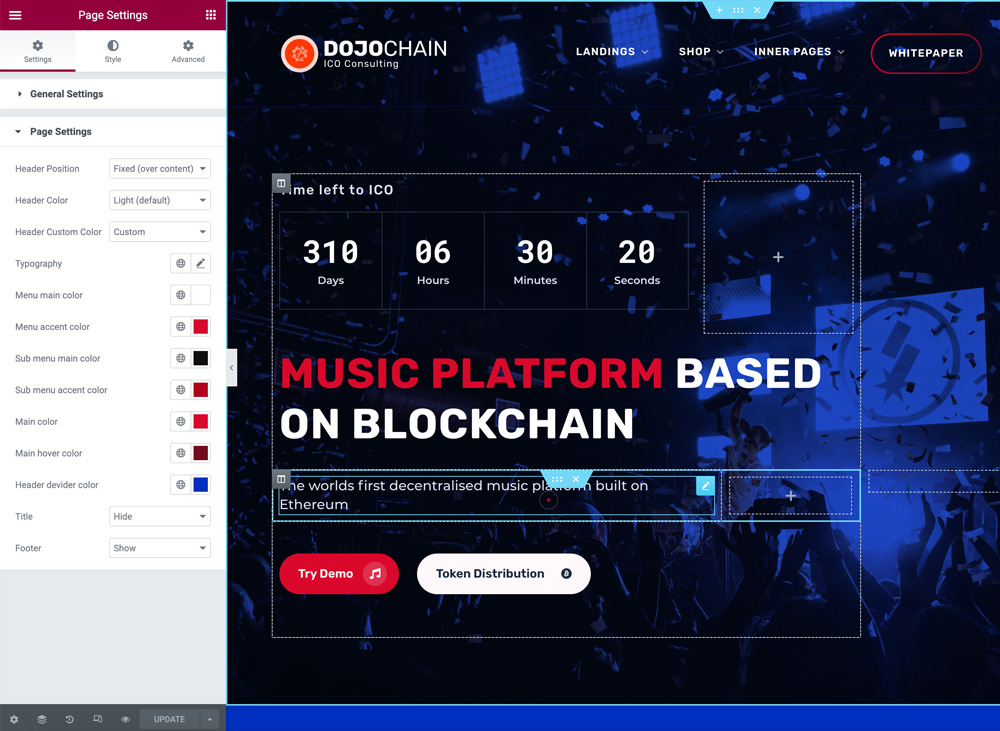 ---
---
DojoChain is fully translation ready.
To start the translation we recommend to use the following plugin Loco Translate. Here is a tutorial on how to translate the theme with Loco Translate: Translate tutorial.
We constantly develop new features and releasing new Updates for this theme. After downloading the latest Version we recommend to push the "rescan" button and fill out the new items.
---
If you need help, please do not hesitate to contact us! To grant best support please contact us by email at [email protected]. Channeling all requests at one place keeps and makes it simple, easier and even more effective for every customers to get quick help. All issues, requests and questions can be discussed and answered at one place. Please note, you will only get access to our forums with a valid purchase key!

Each of our plugin is a final version when offered for sale to you. If you've got some issues - we gladly help you out. Please Note! We cannot make radical changes without compensation.